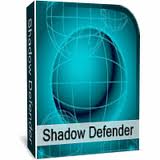 Shadow Defender merupakan aplikasi keamanan yang dapat digunakan untuk melindungi isi PC / Laptop anda dari perubahan yang tidak dikehendaki atau pun penyusupan oleh virus.
Dengan mengaktifkan Shadow Mode maka komputer anda secara otomatis akan dioperasikan secara VIRTUAL artinya semua perubahan yang terjadi tidak akan disimpan secara fisik di sistem PC / Laptop anda. Misalnya, pada saat dijalankan ternyata ada virus yang berhasil menulari sistem anda, maka dengan melakukan restart komputer, secara otomatis program ini akan mengembalikan sistem anda seperti sedia kala tanpa terpengaruh sedikitpun.
Berbeda dengan software competitornya seperti Deep Freeze, software ini memperbolehkan kita untuk memilih file / folder yang tidak ikut di virtualkan. sehingga memudahkan kita untuk menyimpan dan mengolah data yang diperlukan. Artinya, walaupun proteksi virtual dilakukan terhadap drive C / D namun kita dapat menentukan sendiri mana file / folder yang tidak ikut di VIRTUALkan… wow, keren khan?
I. Cara Installasi program Shadow Defender
(1) download program tersebut dialamat http://www.shadowdefender.com/ pilih file 32bit / 64 bit (sesuai sistem operasi PC / Laptop anda). Kemudian jalankan program tersebut.
(2) klik tombol NEXT
(3) beri tanda centang pada kalimat I ACCEPT THE AGREEMENT
(4) klik tombol NEXT
(5) isi USER INFORMATION, kemudian klik tombol NEXT
(6) Klik tombol NEXT
(7) Klik tombol NEXT
(8) Klik tombol INSTALL
(9) Klik tombol FINISH (komputer otomatis restart)
II. Cara mengaktifkan / memakai Shadow Defender
(1) jalankan program SHADOW DEFENDER yang telah diinstall sebelumnya
(2) masukkan kode register anda dengan mengklik tombol REGISTER


(3) klik tombol EXCLUSION LIST untuk memilih folder-folder
yang nantinya tidak ikut di KUNCI.
klik tombol ADD FOLDER -> untuk menambah daftar folder
klik tombol APPLY -> untuk menyimpan daftar nama folder


(4) klik tombol MODE SETTING untuk memilih drive mana saja yang
akan di KUNCI
(5) klik tombol ENTER SHADOW MODE untuk memulai proses penguncian


(6) pilih ENTER SHADOW MODE ON BOOT
(7) Klik tombol OK (PERHATIAN penekanan tombol ini secara otomatis
langsung akan mengaktifkan anda ke mode shadow / PENGUNCIAN,
sehingga apapun yang anda ketik setelah tombol ini ditekan
tidak akan disimpan oleh sistem kecuali ke dalam folder-folder
yang telah didaftarkan pada langkah 3 di atas.
(8) RESTART KOMPUTER anda
Kemudian anda akan melihat logo SHADOW MODE di bagian tengah atas layar PC / Laptop anda (hal ini menandakan mode virtual / shadow telah diaktifkan)
Informasi resmi dari situsnya :
What is Shadow Defender?
Shadow Defender is an easy-to-use security solution (for Windows operating systems) that protects your PC/laptop real environment against malicious activity and unwanted changes.
Shadow Defender can run your system in a virtual environment called 'Shadow Mode'. 'Shadow Mode' redirects each system change to a virtual environment with no change to your real environment. If you experience malicious activity and/or unwanted changes, perform a reboot to restore your system back to its original state, as if nothing happened.
With Shadow Defender, you have the flexibility to specify which files and folders are permanently saved to the real environment. This ensures important files and folders are kept after a reboot.
Try Shadow Defender for the most effective and easy-to-use security solution.
Shadow Defender Features
1. Prevent all viruses and malware.
2. Surf the internet safely and eliminate unwanted traces.
3. Protect your privacy.
4. Eliminate system downtime and maintenance costs.
5. Reboot to restore your system back to its original state.
Shadow Defender Users
1. Maintain a system free from malicious activity and unwanted changes.
2. Test software and game installations in a safe environment.
3. Protect against unwanted changes by shared users (suitable for workplaces and educational institutions).
Ingin download Versi gratis? he.he.he maaf kagak ada, silahkan tanya sama mbah google dech untuk donlotan yg ada cracknya….
selamat mencoba yak…
(kalau bermanfaat, ya, sebaiknya beli donk dari penjual resminya)