Visual Basic merupakan sebuah bahasa Pemrograman yang di gabung ke dalam Microsoft Excel untuk menyelesaikan beberapa pekerjaan sekaligus.
Untuk menambahkan object-object form Visual Basic kedalam WorkSheet Microsoft Excel perlu mengaktifkan menu DEVELOPER / Customize The Ribbon. Setelah menu ini dapat ditampilkan maka berbagai macam object-object form dapat anda tambahkan ke dalam worksheet. Berikut ini saya akan menjelaskan penambahan object Command Button.
Langkah untuk menambahkan Object Command Button adalah sebagai berikut:
I. Aktifkan menu DEVELOPER (jika menu ini telah ada di menu utama Microsoft Excel lewati langkah ini dan langsung ke bagian II)
(1) klik menu File pilih sub menu Option.
(2) Pada jendela Excel Options, pilih sub menu Customize Ribbon.
(3) Pada bagian Customize The Ribbon, beri tanda centang pada kotak Developer seperti gambar berikut.
(4) Kemudian klik tombol Ok, maka di menu utama Microsoft Excel (di dekat menu View) akan ditampilkan menu Developer.
(5) Klik menu Developer, lalu klik menu Insert.
(6) Klik object Button.
(7) Kemudian Gambarkan object tersebut kedalam WorkSheet dengan menekan tombol kiri mouse tahan lalu geser selebar yang anda inginkan.
(8) begitu klik kiri anda lepaskan, maka akan ditampilkan jendela Assign Macro.
(9) Klik tombol New pada jendela tersebut untuk mengisikan Macro coding visual basic yang anda inginkan.
(10) misalkan kodingnya kita akan memindahkan cursor ke A1 lalu diisi dengan tulisan Selamat Belajar, kemudian tampil pesan "Selamat Anda telah berhasil menambahkan Command button". Maka codingnya adalah sebagai berikut
1
2
3
4
5


Sub

 Button1_Click()
Range(

"A1"

).

Select


Selection.Value = 

"Selamat Belajar"


MsgBox (

"Selamat Anda telah berhasil menambahkan Command button"

)


End

 

Sub
(11) Selanjutnya Close jendela VBA (Visual Basic for Applications)
(12) Coba Clik tombol Command Button yang anda buat. Hasilnya nampak seperti gambar berikut ini.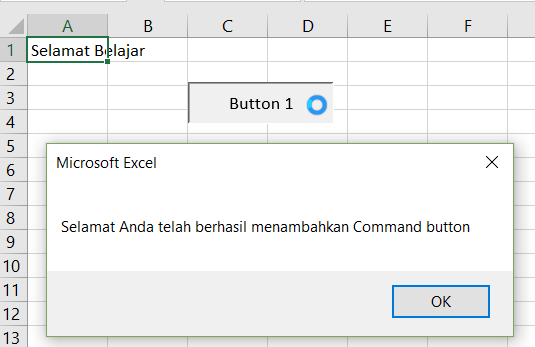 (13) Untuk mengedit text atau menghapus tombol ini cukup klik kanan pada tombol ini, lalu pilih menu yang anda inginkan.
SELAMAT MENCOBA.